MiRewards
Rewards whether you claim or not!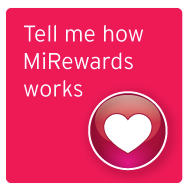 MiRewards is MiWay's one-of-a-kind loyalty program that rewards our clients for simply being loyal*, good risk clients.
MiRewards is a cash reward paid directly into your bank account, to all clients that have been insured with us for least 3 years - regardless of whether they have claimed or not! But that's not all! Our MiRewards program also gives you access to special deals on a variety of lifestyle shopping options. For more about this, click here.
AND earning rewards is EASY. It's within your control and aimed at making your life easier.
*Refer to terms and conditions

Click here to find out what makes MiRewards so different and to learn how to earn rewards!