MiRewards
Rewards whether you claim or not!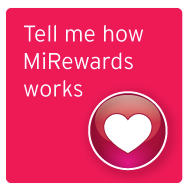 MiRewards is MiWay's one-of-a-kind simple-to understand and easy-to-earn loyalty programme that rewards clients for simply being loyal.
What makes MiRewards so different?
At MiWay you don't have to be lucky or jump through hoops to earn rewards. We reward our clients whether they are claim-free or not. We certainly don't expect you not to claim when you need to.
How do I accumulate rewards?
By simply paying all your premiums on time
Boost your rewards by exclusively transacting and communicating with us online
By simply Name Dropping a few of your friends to MiWay
earning rewards is EASY. It's within your control and aimed at making your life easier.
Click here to find out what makes MiRewards so different and to learn how to earn rewards!
*Refer to terms and conditions