Are Your Goods in Transit Insured?
Published on: 30 March 2015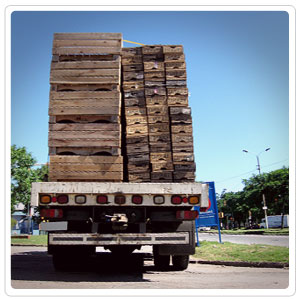 Moving goods from point A to point B can sometimes be a risky task, especially considering all the possible hurdles and dangers that can exist. However, you can protect your goods and any financial loss that may occur by taking precautionary measures and business insurance that covers goods in transit.
Risks that face goods in transit

Theft of the vehicle: According to research by Business against Crime South Africa (BACSA), when it comes to vehicle crime there is a basic trend that has been spotted over past years. BACSA found that older vehicles (between 7 – 21 years old), are at higher risk of theft, while newer models (between 1 - 4 year old) are at the highest risk of hijacking. Sedans are the most often targeted, though it should be noted that mini-buses and Light Delivery Vehicles (LDV) are at an even higher risk of being stolen or robbed than any other type of vehicle. Vehicles with a large market saturation are normally at high risk.
Theft of goods: Apart from vehicle hijacking, goods in transit are at a higher risk of being stolen as well as other forms of loss such as pilferage.
Mishandling: Goods and equipment in transit are at even higher risk based on the fact that they are being handled and moved between locations. These would be not only from the type of risks that stock stored at your premises may be exposed to but also those that are unique to the transport cycle. Additional risks such as custody change, improper packaging, and negligence on behalf of the company transporting the goods are faced.
Other factors: goods may also be damaged or destroyed by any number of factors, including acts of nature, vandalism and/or fire. The vehicle carrying the items may be involved in an accident. Goods being carried outside of the borders of the country are additionally at risk from perils such as piracy, government confiscation, and war-related actions.
Minimising risks
It is important to choose the carrier with great care in order to help minimise the risk associated with goods in transit. All reputable carriers should have considerable protections in place in order to reduce the likelihood of losses and to ensure that clients are indemnified appropriately and to the correct levels. It is also necessary to be aware of whether the items being transported are fragile and that the necessary precautions have been taken to protect them, along with whether such items are replaceable at all, when planning the transportation of those goods.
As part of the risk management control measures, it is important that the party carrying the items maintain a detailed inventory of the items being transported. A prudent measure would be to keep note of details such as makes, models, serial numbers and possibly even photographs where necessary, as this could assist with the quantification of the load as well as proof that the items were being transported.
The carrier, upon delivery of the items, should insist that items are checked to ensure that there is no damage. Failing to do this may lead to a challenging claims process.
Another factor to be aware of is who the party is that has a financial interest in the items being transported. It is of even greater importance should there be several people that hold such an interest in a single load being transported. It is essential to ensure that the parties accept and quantify the amounts that they are liable for and the manner in which each will be indemnified in the event of a loss.
Your short-term insurance company will generally cover you against sudden unforeseen events and for this reason not all types of loss or damage may be covered. It is therefore essential to act with due care and precaution when packaging items and to also be mindful when selecting drivers, carriers and packers, specifically those that will be loading and unloading the items. It is also vital to carefully plan the delivery route and where possible to have as few stops as possible before the final destination is reached. Items should preferably not be loaded and offloaded unnecessarily.
Apart from making sure that your insurer covers goods in transit, it is important that due care is taken in order prevent loss. For more information on MiWay's Business Insurance and good in transit cover click here.