Focus on doing the fundamentals right and the scoreboard will look after itself
Published on: 24 October 2011
We at MiWay recently experienced an unexpected but pleasing purple patch. On 4 October we were announced winners of the Ask Africa Orange Index Survey for Service Excellence in the Short-Term Insurance category, and on 5 October we were declared winners in two categories of the Deloitte Best Company to Work For survey, namely the winner of the Financial Services – Insurance category, as well as overall winner of the Medium Company Category.
Both surveys are prestigious and coming out tops in them is quite sought-after. The quality of previous winners is a clear indication that we have a lot to smile about. The Orange Award is based on random public opinion, whilst the Deloitte awards are based on the views of a randomly selected sample of MiWay staff.
It seems, therefore, that we have both happy clients as well as happy staff!
To say we were over the moon would be a euphemism. In one sense, we didn't expect it because we've only been in existence for just over three and a half years. In another sense, winning these awards confirmed to me the validity of a long-held belief, namely that results follow from doing the fundamentals right. It is more important to do the right things than doing things right. Put another way, effectiveness is more important than efficiency. First prize, of course, is to be both effective as well as efficient, to do the right things right. It is my conviction that if you do the right things right for long enough, you will win on the scoreboard. This is true for most things in life, but of course there is the odd exception: take for example the Springboks' loss against Australia in the quarter-finals of the Rugby World Cup. The Boks were better at doing the fundamentals right, yet they lost on the scoreboard……sorry, I'm digressing…..
At MiWay, we work incredibly hard at creating a corporate culture that drives the right behaviour. In essence, we strive to create and encourage a cultural space wherein our staff can be happy and because they are happy, they provide the level of awesome service to our clients that we aspire to. We want to build a world-class business and in order to do that, we need our people to perform according to world-class standards. This is only possible if their work environment – the corporate culture – enables and encourages world-class behaviour. Culture drives behaviour. Whilst it is indeed possible to drive behaviour in the short-term through a variety of incentive schemes, only a healthy, positive culture will ensure long-term sustainable performance.
Our culture is based on four simple values, namely freedom, attitude, energy and accountability. We have various programs in place to create and promote this values-based culture. We keep it current and relevant on a daily basis, e g if a staff member (we call them freedom fighters, because they fight for our clients' freedom by saving them time and money) receives a compliment from a client on our website or a consumer website such as hellopeter.com or on Facebook or Twitter etc, we make a hero of him/her by forwarding that compliment via e-mail to the rest of the staff. The recognition that flows from that simple deed, is immense. Another way of keeping the values current and relevant, is the samurai sword floating trophy that is awarded on a weekly basis to the freedom fighter who was the best example of the MiWay culture in the preceding week. The basis for this award is peer nominations and motivations. The power lies in the fact that the freedom fighter is recognised and celebrated by his/her peers! We don't throw money at the challenge of creating and promoting our culture. Instead, we make heroes of ordinary people who do extraordinary things.
This might sound easy, but it takes commitment and focus and hard work from everyone, from the leadership down to the cleaning staff and proverbial "tea lady".
When it comes to the values, we are all equal.
Every team member is a co-custodian of the values, which means he/she takes accountability for living the values on a daily basis as well as ensuring that the other members of his/her team also comply. We all clearly understand that only a joint effort by all will ensure the survival and longevity of the MiWay values-based culture.
Having said this, the role of leadership should not be underestimated. A fish rots from the head, and to quote something Paul Harris once shared with me: "mediocrity casts a shadow". I agree with John Buchan when he says "the task of leadership is not to put greatness into people, but to elicit it, for the greatness is there already". The leaders need to set the example, walk the talk, and provide the inspiration!
In case this all sounds a bit too serious, we also believe in having fun. As with the MiWay brand, we try not to take ourselves too seriously. The world we live in is serious enough. Our industry is known to be a grudge industry. We try to put a smile on our clients' faces, which in turn puts a smile on our own faces!
And, if you think about it, it's not rocket science. Simple things, like keeping your promises, are often all it takes to keep your clients happy. I love clients who complain, for two reasons: 1) they often provide you with valuable information about what's wrong in your business, and 2) if you fix the problem properly, you often find that you've gained a client for life.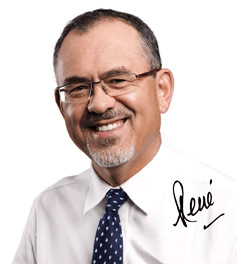 We are far from perfect. We still get it wrong on too many occasions. We still make basic errors that can and must be eradicated, but I suppose we get it right more often than we get it wrong. To quote Carveth Read: "It is better to be vaguely right than exactly wrong". I think we get it vaguely right. But we certainly haven't "arrived". We are acutely aware of the danger of complacency …
In conclusion, we won't allow these accolades to go to our heads, but we certainly allowed ourselves to celebrate. We popped some champagne … and then we got back to work again!
Kind regards,
René Otto