How to choose an insurer
Published on: 28 January 2009
Dear Reader,
Welcome to my Blog!
I look forward to healthy debates and frank discussions. To get things going, I want to share some ideas with you on how to choose an insurance company.
When choosing an insurer to cover your vehicle, there are various factors to consider depending on your unique profile. But regardless of who you are and what you drive there are certain standard tell-tale signs to look out for when choosing a quality, dependable insurer. Sometimes cheaper monthly premiums could mean a very unpleasant and costly claims experience.
Shopping around for insurance could mean significant monthly savings. Here are a few things to consider the next time you choose an insurance partner.
Excesses
Insurers typically offer either a fixed excess or percentage excess linked to the value of your car or claim. Often the excess you choose will affect your monthly premium. So, a higher excess could mean a lower monthly premium, but at what cost?
Consider the following:
Can you afford the agreed excess should you need to claim? Don't opt for a high excess if you don't have disposable cash.
In the case of percentage and variable excesses, do you know what amount of money these percentages translate into?
Are you aware of the implications when linking multiple excesses to a single claim? In some cases, a young uninsured driver responsible for an accident in the insured's car could mean a double excess!
Through MiWay your excess amounts are fixed and clearly explained BEFORE you buy a policy. You may choose to increase your excess to make your monthly premium more affordable.
Claims process
When choosing an insurer this is a critical deciding factor. What is the attitude of the prospective insurer towards paying claims? Will the insurer put you back in the same position as before?
The basic principle of insurance is this: an insurer should place you back in the SAME position you were in, before you suffered the loss you are claiming for. The idea behind insuring your assets is to financially prepare you for a possible future loss.
To avoid feeling resentment or frustration at claims stage, follow these simple guidelines:
As the insured party, make sure that the information you supply in the initial contract or telephone interview with the insurer is 100% accurate and true. Inaccurate or incomplete information will impact your premium and negatively influence your cover and future claims.
Ask the insurer what their claims procedure entails. Newer players in the industry such as MiWay have paperless facilities so using our call centre or online forms will save you loads of time and frustration.
Enquire about the insurer's turnaround time on claims. The industry standard is five working days, but this will depend on the type of claim and repair times.
MiWay follows a transparent philosophy. To avoid upset and angry clients at claims stage, we make very sure clients understand exactly what they are buying. The policy wordings are written in simple language and most importantly, prospective clients are urged to provide accurate and complete information at underwriting stage when the premium gets calculated.
Online capabilities
Convenience is king. Consider how 24/7/365 access to your insurance portfolio could save you time and frustration…so, when choosing an insurer look out for a partner that has online capabilities. Mounting pressure on your private time means you need to be able to attend to your personal matters when it's convenient for you – often after hours.
Through MiXpress with Miway you can get an accurate quote, accept a quote and incept a policy as well as make changes and updates to your existing policy. All of this without ever speaking to an agent! Yet another innovation from MiWay to make financial services easier and more convenient for YOU.
Pricing
When choosing an insurance option take care to compare apples with apples. Too often consumers choose a cheaper premium not fully aware of the reduced cover this implies. Here are a few variables to double check:
Is your car insured for market or retail value?
Check excesses, especially additional excesses.
Is the cover you are being quoted on comprehensive or only for limited liability such as theft or third party?
Does the policy require a tracking device? This could mean an additional monthly expense.
Does the policy include any additional free services such as an emergency service?
Remember: ask the insurer to explain any unclear conditions of cover and how this will impact your premium and the cover you will receive. Quite often a moderately more expensive premium could mean significantly better cover….
Service
Finally, it is important to choose an insurer who delivers great customer service. Having already chosen the right product with the right price means that you can't settle for second-best when it comes to receiving great customer service – both before and after claiming!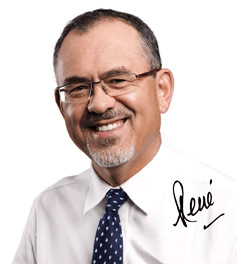 Pick an insurer well known for putting their customer's needs first. Your insurer should not be hesitant to be transparent in their correspondence with you. They should have available channels ready for you should you need to communicate with them – whether it is positive or negative feedback you are communicating.
MiWay is the first company in the South African insurance industry to dedicate a page for Compliments & Complaints on their website. The website is renowned for being transparent, as we publish all comments made by clients and potential clients alike. We view negative feedback as valuable, and appreciate the opportunity to get things going your way again quickly and efficiently.
I look forward to hearing your views.
Kind regards,
René Otto