In the last couple of months, we have celebrated the successful conclusion of our third year in business and we also reached the 100,000 client mark, a milestone which economists and statisticians say many new businesses never get to see. This must be particularly true for those brave entrepreneurs who embarked on their journey at the same time as MiWay. At that stage there was no hint of the financial crisis that would cripple the economies of the world, instead our economy was buoyant, South Africans were energised and the future appeared to hold nothing other than the promise of even better things to come.
But this changed overnight.
One day we were basking in the sun of the prudent planning of our government and financial institutions; the next, our blue skies had been overshadowed by the storm clouds of the global financial meltdown. It was a lesson in economic interdependence or globalisation; we are all connected, able to benefit from the strongest amongst us, but equally vulnerable to the adverse effects resonating from the weakest.
The impact of the financial crisis on South Africa's private sector and individuals has been quite simply devastating; leading, unsurprisingly to restructuring, liquidations and large scale job losses.
How is it that MiWay has been able to not only endure these harrowing conditions, but exceed the three-year targets we set for the business at the outset? These are the questions that insurance market watchers must surely be asking. After all, when we launched in February of 2008 the industry was dominated by a handful of players and the market was considered nearly impenetrable.
The answer is simple: we returned to the roots of what makes business work. And by this we don't mean the business basics of systems, cash flow and process; we mean people.
To me it seems that as the business environment has 'progressed' it has forgotten that business is not done by buildings, computers or websites. Instead, business is done between people based on the health of their relationship.
We came into this business with a firm belief that people – our customers, our employees and our partners – would determine whether we made it or not. That meant clarifying what a healthy relationship with each group meant and the answer across the board was really rather simple: people want relationships based in trust, transparency and understanding.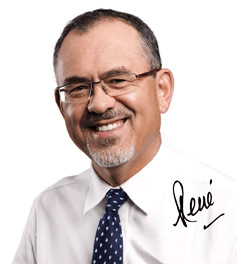 It is these principles that permeate our business and guide the development of products and services that are then offered to the market. We have worked, and continue to work, hard to remove much of the mystery that the local insurance market founded itself on. This has resulted in products that include insuring a person based on that person's driving style; interaction channels that are available when our customers want them; and rewards that are paid to customers who have maintained their relationship with us well, even if they have submitted a claim. In fact everything we have done has been checked against the question: will this make our relationships stronger?
The response of our customers, employees and partners to our underlying principle has been an overwhelming and unequivocal endorsement.
And so, I would like to thank you for entering a relationship with us, for coming on this journey with us. Please keep speaking to us, tell us what you like, what you don't and what you would like to see. After all, our business is based on achieving the best possible relationship with you.
Kind regards,
René Otto