Success breeds Succcess
Published on: 18 May 2012
Time flies when you're having fun. It's amazing to think that we're already in May. The year is indeed flying!
Life at MiWay is better than ever.
Although we have previously had the odd profitable month, we have now enjoyed a fair number of consecutive profitable months. It is, at last, safe to say we've emerged well and alive and kicking from "the valley of death". The latter is a term used to describe the period between launching a new venture to the point where it starts making profit. The reason for calling it "the valley of death" is because many new ventures die a slow death before ever showing any profits. Reaching break-even in the case of a financial services business (short-term insurance in our case) such as MiWay is by no means a given. It requires a massive capital investment from patient shareholders, passionate dedication from a motivated team (which includes many sleepless nights) and a long list of other requirements that all need to fall into place.
We are highly relieved and very proud at the same time! In just short of four years, we grew from zero to over 130,000 clients; we should collect in excess of a billion rand in premium this year; and we are experiencing acceptable loss ratios, expense ratios and retention ratios.
Along the road, we have had some pleasant surprises.
We came first in the Deloitte Best Company to Work For Survey (medium size companies and financial services – insurance divisions); first place in the short-term insurance division of the Ask Africa Orange Index Survey; second place in the Ombudsman's Isabel Jones Ukusizana Awards; and we currently have an 85% compliment ratio on the consumer website hellopeter.com. We don't see these accolades as an indication that we've "arrived" in any way whatsoever, however, they are valuable indicators that we have a positive and constructive company culture, that we deliver a high standard of service to our customers and that we treat the enquiries from the Ombudsman with the respect and care that it deserves. And we use it as motivation to try even harder.
I am fortunate to have had a father who was a wise man.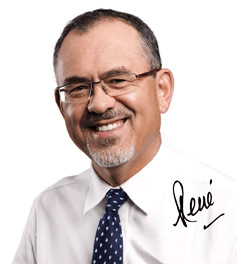 One of his favorite sayings was "success breeds success", meaning the more a person, or team, or country, or company experiences success, the more it tends to be successful. Many successful sports coaches refer to the fact that "winning becomes a habit". At MiWay, we work hard to instill a habit of winning; a culture of success. In my experience, people enjoy being part of a winning team, and they enjoy it even more if they can see how they contribute to the team's success. The challenge for leaders, therefore, is to do whatever it takes to get their teams to taste success. Once a team tastes success, it wants more of it and eventually it becomes part of the team's culture. It becomes a habit. That is a great place to get to, because in a success culture it takes a lot less managing and coaching and leading and supervising … the culture becomes the driver of the team's behavior and because it is a culture of success, the behavior leads to success. I realise very well that we still have a long way to go at MiWay, but I do attribute the relative successes we've achieved in our first four years to the fact that we've laid the foundation of a culture of success.
The winter months are upon us and most sports lovers are looking forward to a jam packed international sports calendar. I hope the Boks and the Proteas settle quickly into success cultures in their respective upcoming engagements!
Kind regards,
René Otto