TCF – Treat Customers Fairly
Published on: 15 October 2014
A topic that has created a lot of debate in the insurance industry over the last couple of years, is Treat Customers Fairly (TCF).
I was at first surprised that the Regulator felt the need to regulate fair treatment of customers. I have always held the belief that treating customers fairly is part and parcel of running a proper business. If your aim is to build a sustainable business that will stand the test of time, treating your customers fairly is not negotiable. Consumers have so much choice these days, they are bound to vote with their feet if they don't receive fair treatment.
Fortunately, we have placed a lot of emphasis on our values-based culture at MiWay. The purpose of our culture is to create an environment that is conducive to staff enjoying what they do and striving to be the best they can be. Our culture drives our behaviour, the way we treat each other and the way we treat clients and potential clients.
The challenge for us and our competitors alike is the fact that the Regulator places the onus to prove that we treat customers fairly on us. This, of course, is easier where a strong corporate culture already exists. Conversely, it is very difficult to prove that you are treating your customers fairly if the underlying culture is non-existent.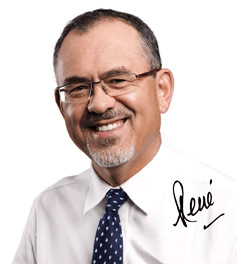 MiWay recently received top honours in the Mail&Guardian Top Companies Reputation Index. Although our reason for existence is not to win awards, we obviously enjoy it when it happens. In this instance, we are very proud of receiving the award, for a number of reasons. Firstly, a company's reputation is one of its most valuable assets. Secondly, it reinforces our commitment to our values-based culture. I firmly believe that there is a strong link between our values-based culture and our reputation. Lastly, the short-term insurance space is very competitive and there are a number of strong brands and reputations out there. Winning against such strong competition is indeed a feather in our cap.
At MiWay, we strive to build a world-class business.
This means we need to have a world-class culture and we need to provide our clients with world-class service. It goes without saying that world-class service includes treating customers fairly!
Kind regards,
René Otto