The Little Big Things
Published on: 11 October 2013
I recently had a rather strange experience.
I received a compliment from a client on hellopeter.com for taking the time to interact with him on a claims query. The client lauded me for 'taking time out of my busy schedule' and for displaying visionary leadership. The hellopeter posting had a further knock-on effect when a number of MiWay employees jumped on the bandwagon to praise me. (We send all hellopeter postings, good or bad, to the entire company.
I was quite surprised and mildly amused by the reaction.
Interacting with staff and clients is something I do on a daily basis. Furthermore, I didn't agree with the client's demand. I merely answered him properly and explained the reason for our decision properly. In short, I just did my job.
This begs the question: are consumers normally unable to get a response from the CEO of their service provider, to the point where they are surprised and delighted when they actually do get a response? If that is true, I have a major problem with it. What could be so important in the 'busy schedules' of CEOs that they don't have time to interact with their clients? Our income comes from our clients, which means our lifeblood depends on them. In my mind, if you are too busy to respond to a query from a client, you do not deserve to take their money!
This experience also shows the importance of doing the little things right. We are often so focused on the next big thing that we forget the little things. And we underestimate the power of the little things. My response to this specific client was clearly something that he appreciated. For him, it wasn't a little thing. It was a big thing. A little big thing!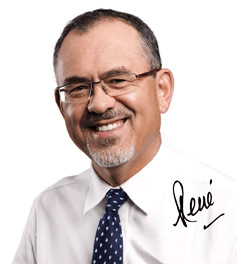 At MiWay, we work hard to entrench a culture that drives the way we treat each other and our clients. We strive to create a work environment where staff can be themselves and fully express their talents and reach their potential. We also focus on treating customers in a way that shows our appreciation of their support. We realize they have many choices. The fact that they choose us to do business with is something we cherish.
It is not difficult to delight a client. Sometimes all it takes is showing a little humanness. Sometimes all it requires is keeping a promise. Often all it takes is doing the little big things!
Kind regards,
René Otto