The role of Culture in an Organisation
Published on: 11 June 2010
With the World Cup upon us, words like 'team spirit', 'gees', 'attitude', 'motivation' and 'passion' are often heard. The general consensus is that a happy team with great team spirit is often a winning team. In fact, team spirit is often the only differentiator between two teams. In my mind, it is no different in the business world. Team spirit is derived from the culture in a team or organisation.
The competitive business world is like a war zone.
Companies are trying to outsmart each other all the time, in order to gain sustainable competitive advantages. Most often, business leaders focus on strategies around product design and innovation, service delivery, or price to find the competitive edge. Brand positioning and advertising in focused distribution channels, and innovative ways of establishing sales opportunities, are other popular battle grounds. Far too seldom, however, the role and potential value of a strong corporate culture (or 'team spirit') is recognised as an integral part of a successful arsenal. In my view, a strong corporate culture not only lends itself to a competitive advantage, but the fact that it is particularly difficult to copy gives it its immense sustainability.
The logic is very simple: happy people perform better.
The aim, therefore, is to create a work environment where people are happy. The challenge, however, is how to achieve that. In my experience, the starting point is to build a culture around a set of core values, not rules. Given the immense diversity of our rainbow nation, the next challenge is to find core values that are common to all religions, languages and ethnic backgrounds. If successful, this then has the added advantage of galvanising the troops into a strong, loyal unit. Once the set of core values have been discovered, the next challenge is to get individual 'buy in' from every member of the team, and once that is achieved, to keep it alive and strong. It is important that everyone understands that there is no hierarchy when it comes to values, and the only way to ensure that it remains a powerful force is if every single team member accepts accountability to act as a co-custodian of the values driven culture.
At MiWay, we build our culture around four simple values, namely freedom, attitude, energy and accountability.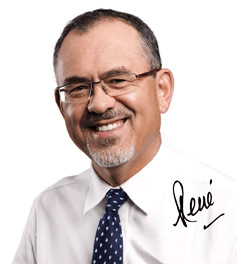 As CEO, I spend two hours with every new intake of staff, which happens every month, to ensure they become co-custodians of our values. Our management team ensures that all communication to staff is done in the context of the four values. Lastly, we have a weekly floating trophy, a samurai sword that goes to the individual who set the best example of living up to the values in the preceding week. At the end of the year, we have different ways of honouring and rewarding all the weekly winners. The passion and excitement surrounding the nomination process, and the prestige associated with receiving the award, leave me in no doubt our values driven culture is well and alive and giving us a sustainable competitive advantage in the market.
At MiWay, we are one big team.
We battle together and we have fun together. We enjoy each other's company. Often, this feeling of togetherness helps us to overcome tough challenges. Our corporate culture creates the environment for us to be competitive and successful in the ultra-competitive business world…..it often gives us the edge to win the battle. Most importantly, it ensures that we are having fun in the process.
Kind regards,
René Otto