Many variables go into determining your car insurance premium, including age, driving history, and the car you drive – but what about astrological signs? Our actuarial team thought it might be fun to see whether there is a correlation between a person's astrological sign and how they behave on the road…
…This is what our statistics showed: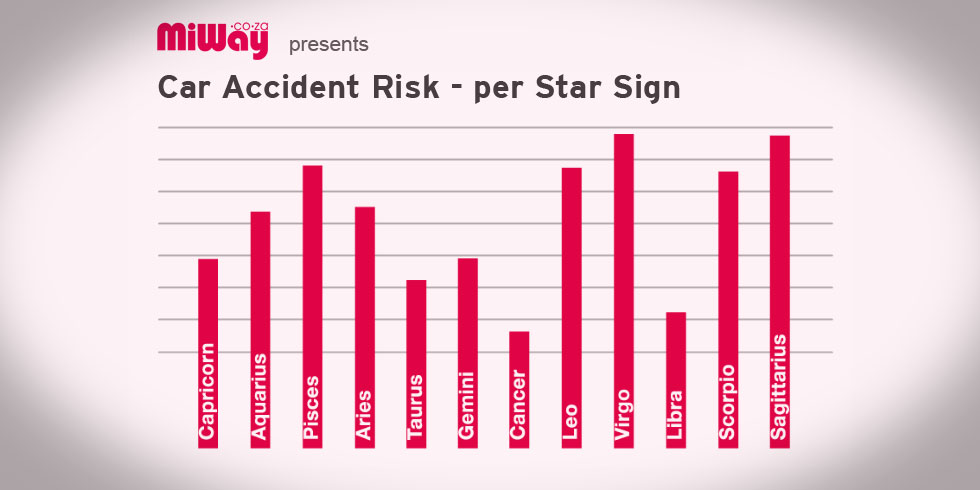 We ran an internal survey to find out what MiWay employees thought of these stats. Interestingly, we had responses from every star sign except for Aquarians – maybe it's because of their independent nature! The most responses came from Libras – perhaps because of their need to have an opinion on everything? Anyway, here are some of the findings from the survey:
The majority of our participants thought that there may be some truth to astrology.
Only 3% thought that they were more prone to accidents than other star signs.
Over 80% thought that being a particular star sign does not mean that you are at a higher risk of causing a car accident.
Here are some of the comments that were made by our participants:
"I don't agree, because I had two accidents in a period of 25 years"
"I don't think it's true... I see myself as a very cautious driver... I haven't had a car accident in the last five years"
"Thank goodness, I'm a Libra!"
"I'm glad I'm Cancerian :)"
Whatever the future may hold, it's safe to predict that the insurance industry will not be consulting astrological charts in order to calculate your premium anytime soon.
Do you think there's a link between star signs and driving behaviour? Let us know what you think by sharing your thoughts on our Facebook, Twitter, or Google+ pages.