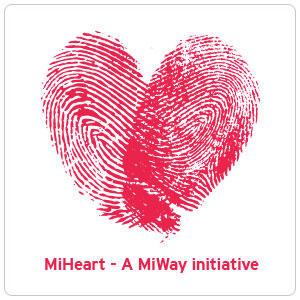 With South African short-term insurer MiWay committed to putting maximum effort into its Corporate Social Investment, it comes as no surprise that it has gone the extra mile at an East Rand school. As it rolled out its MiHeart Project – putting computers and connectivity into underprivileged schools - the company's volunteers noticed the poor state of the library at Tembisa's Maphutha Secondary School. A crew known for action, the MiHeart Volunteers (as they call themselves) quickly stepped up, collecting over 2000 books from their fellow employees to stock the library.
MiWay CEO René Otto says the company chose to focus on computers in schools for the MiHeart Project as computer literacy is an essential skill set in the modern world. "Without the ability to use technology effectively, the opportunities for school leavers are substantially curtailed – and it is those in less privileged schools who tend to need computer education most."
However, the MiHeart Volunteers know that in addition to computer knowledge, access to books is also necessary for a well-rounded education. Recognising the shortcomings of the Maphutha School library, which lacked educational and fiction books, the volunteers took it upon themselves to look within MiWay to solve the problem.
The effort started with an internal 'MiHeart Book Collection Drive', through which thousands of books were donated by staff members. They didn't stop there, either. The volunteers also rolled up their sleeves and spent a Saturday completely renovating the library, with a lick of paint, a thorough clean and a good deal of cataloguing and organisation.
MiHeart Volunteer Thuli Mofokeng shares her enthusiasm: "We had lots to do to revamp the library, but it was great fun and we felt touched by being able to encourage the youngsters to start reading at a young age, in Zulu it's called 'ligotjwa lisemanzi'."
As a result, the now fully equipped library is a pleasant, inviting and productive space for Maphutha's learners and teachers to enjoy. Maphutha Secondary School Principal, Mrs KC Nthlane has certainly noted the improvement: "I thank MiWay for their time, commitment and their generosity. We hope that the school will benefit and grow academically as we reap the rewards of better education. The library and the computer lab will go a long way in changing lives of the entire community," she confirms.
Click here to find out more about MiWay's MiHeart Initiative.