KZN's Big 5 Mountain Bike Series secures two-year MiWay sponsorship
Published on: 14 May 2012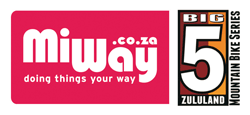 Direct insurer MiWay has signed a two-year sponsorship deal with Zululand's Big 5 Mountain Bike Series, a major fixture on the annual KZN cycling calendar.
"We sponsored the Big 5 for the first time last year and are thrilled to have cemented a long-term relationship with this great team," says MiWay's Head of Marketing Carine Conradie-Haffejee. "The series is a perfect fit for our MTB sponsorship strategy. We have a long history with South Africa's mountain biking community and we intend it to carry on growing and developing in future."
The 2011 Big 5 was a great success, adds Conradie-Haffejee. "The KZN cycling community is enthusiastic and close-knit, and it was a great opportunity to get to know them. We expect this year to be an even greater success. They are hoping to attract even more riders from outside KZN, which will help to promote tourism in the wider Zululand area at the same time."
In line with MiWay's commitment to growing the sport and giving it more exposure, this year's sponsorship includes funding video production, says Conradie-Haffejee. "High-quality TV footage means the series has a better chance of gaining more exposure, especially outside the KZN area."
Started in 2006, the Big 5 series has grown rapidly. This year the event will again begin alongside the Zululand Outdoor and Fitness Expo at the Umfolozi Casino on May 12, with time trials and registration on the same day.
The series proper kicks off on May 13th with the Zini Estate Buffalo Classic in the coastal resort town of Mtunzini. The race offers spectacular views of the coast and forest, with both 25km and 50km rides as well as a 10km fun ride.
The Heatonville Leopard Classic follows on June 24th, with the Hluhluwe Rhino Charge on July 22nd, the Monzi Hippo Challenge on September 2nd and the Kwambo Lion on September 30th.
Riders can compete in any single race, or sign up for the Big 5 Challenge, which will rank riders according to their four best times.
For more information on the races, visit www.big5mtb.co.za, www.miwaymtb.co.za or the revamped MiWayMTB page on Facebook. For MTB Insurance visit http://www.miway.co.za/bicycle-insurance.