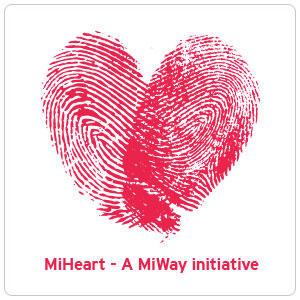 Not only did 18 July 2014 mark Nelson Mandela International Day, but it was also the first without the great man. With its commitment to keeping Madiba's legacy alive, and doing just as he did for over 67 years, MiWay sought to make a change through "small change" – by asking for the coins in the wallets of its employees.
Employees donated a minimum of R6.70 - a collection which went towards the soup kitchen of one of the MiHeart Project schools, Moletsane Secondary School in Soweto. The soup kitchen feeds hundreds of learners on a daily basis and helps nourish young minds. During school holidays, Moletsane Secondary School conducted extra lessons for the Grade 12 learners.
The MiHeart Project collected over R7000 and a number of MiHeart Volunteers braved the cold morning to ensure that a hearty lunch was served on time. Not only did they prepare a meal, they also served it to the Grade 12 leaners, parents and teachers of Moletsane Secondary School. Non-perishable goods were also donated to the school's soup kitchen for their regular lunch programme.
Nthabiseng Moloi, Head of Marketing and Brand at MiWay said, "It was a great opportunity to give back to the community of Moletsane. We enjoyed taking over their kitchen for the day and spoilt the youngsters with lunch and special treats. The MiHeart Volunteers are inspired by the Zulu saying, 'Umuntu ngumuntu ngabantu' – the African philosophy of kindness."