MiWay a great place to be!
Published on: 11 October 2011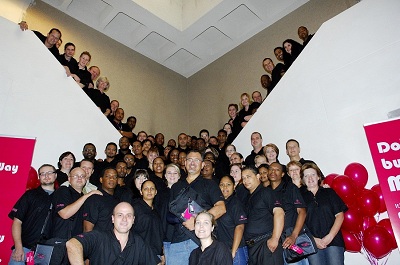 MiWay has scooped two awards in the prestigious 2011 Deloitte Best Company to Work For survey. The innovative direct insurer walked away with the awards for Winner: Medium Company Category and Industry Winner: Financial Services – Insurance.
Now in its 12th year, the Deloitte Best Company to Work For Survey assesses employee perceptions of Southern African companies as employers of choice, and ranks these organisations accordingly. It not only highlights the most desirable employers, but also provides a mechanism that companies can use to benchmark themselves against their peers and competitors in the Southern African employment market.
This is the first year that MiWay has participated in the survey, and surprised many long-time participants with its two inaugural wins.
René Otto, MiWay CEO, says this incredible achievement is directly linked to MiWay's carefully crafted company culture. "We've worked very hard to create an internal culture that promotes happiness amongst staff – because happy people perform better" Otto explains. "This culture is underpinned by our core company values – freedom, accountability, energy and attitude. We have actively fostered this culture among staff who totally buy into the company vision. In fact, I'd like to dedicate thses two awards to our passionate and hard working people."
Added to this are extensive staff training opportunities and significant prospects for career advancement within the very fast growing company.
Since entering the market less than four years ago, MiWay has carved a niche for itself as an innovative champion of the consumer. Otto says this, combined with MiWay's passion for its people, make MiWay a "best company to work for".