MiWay Best Company to Work For again!
Published on: 08 October 2012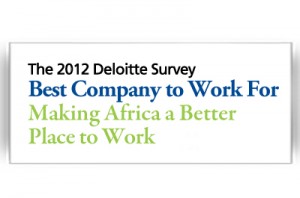 Direct insurer MiWay has again won awards in the prestigious Deloitte Best Company to Work For Survey.
Following its wins in two categories in 2011: Medium Company Category and Industry Winner: Financial Services – Insurance, MiWay has again emerged victorious in both categories in 2012. In addition to these two awards, MiWay has also been recognised as a Top Performing Company in the Southern African region in the Medium Company Category. This acknowledgment comes after Deloitte's inaugural inclusion of Namibia and Botswana in the 2012 survey.
MiWay launched only four and a half years ago, and recently celebrated its maiden profit for the half-year ending 30 June 2012. The company attributes much of its market success to its investment in its 1000-strong staff complement.
MiWay CEO René Otto says it's not about winning awards, but rather about building a winning organisation on the back of a winning culture. "Happy people perform better, and the value of the survey lies in the feedback it gives us in terms of whether we are on the right track or not with our people", he says.
Otto says MiWay has established an internal culture underpinned by its core company values – freedom, accountability, energy and attitude. In addition, the company offers extensive staff training opportunities and significant prospects for career advancement. However, 'fringe benefits' and 'perks' are not high on the agenda. "We believe in creating an environment where people can grow as human beings and make a meaningful contribution towards building MiWay into a world-class organisation", he says.
Now in its 13th year, the Deloitte Best Company to Work For Survey assesses employee perceptions of Southern African companies as employers of choice, and ranks these organisations accordingly. It not only highlights the most desirable employers, but also provides a mechanism that companies can use to benchmark themselves against their peers and competitors in the Southern African employment market.
The survey assesses participants on a number of criteria, including the staff's sense of confidence in the organisation, their working relationship with management, their overall job satisfaction, sense of inclusion in the business, their career development opportunities, work-life balance and the ethics and integrity of the organisation they work for.