MiWay: Five, alive and full of drive
Published on: 26 February 2013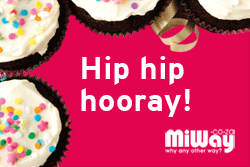 Short-term insurer MiWay celebrates its fifth birthday this week. Still firmly in place is MiWay's passion to break the mould and give customers what they actually want.
The company's launch in February of 2008 was met with quiet scepticism by industry observers. The highly-competitive short-term insurance sector was dominated by a handful of established giants and the success of a new entrant seemed unlikely. Yet, despite tough competition and an unexpected global financial crisis, MiWay is five years old and thriving.
In that time, the business has grown beyond expectations and today ¬boasts more than 170 000 clients; 1 200 staff members; three call centres in three cities; and gross written premium for 2012 of R1.1 billion. Its journey has been marked by multiple innovations leading to numerous accolades for customer service and excellence in the insurance sector and as an employer of choice. These include:
First to offer true online insurance purchasing
First to offer rewards even if clients have had to make claims
First to offer a fixed premium product
First direct insurer to win the Deloitte Best Company to Work For in their first year of entry (winner in 2011 & 2012 medium sized businesses & financial sector)
Youngest winner of the Ask Africa Orange Index Service awards (in 2011)
But to René Otto, MiWay CEO, nothing carries as much weight as the feedback that come from clients, employees and partners directly.
"Engaging with our stakeholders, especially our clients, is very important to us. We want to know what they think, good and bad. To this end we've embraced social media and established a pro-active public comments forum on our own website that is open and transparent. We know we can't get it right every time but when we get it wrong we want to fix it and fix it properly," explains Otto.
So what do MiWay customers think of the insurer?
The comments section reveals the company is sticking to its drive to deliver exceptional customer service with clients going out of their way to detail their pleasure and appreciation. Consumer service site hellopeter.com demonstrates the same satisfaction among customers placing MiWay at the top of its compliments list based on the last five days. And confirming the remarkable positive sentiment that surrounds this operator, Ask Africa's Orange Index placed MiWay at the top of the short-term insurance sector in 2011 making it the youngest company to ever win the award.
MiWay is equally well known for its innovation in this sector. The company's drive for doing things differently has lead to changes in the short-term insurance products available to consumers and it has become a pioneer in the way it services its customers. Most recently, MiWay introduced its Submit, Shoot, Send facility, a service enabling clients to not only log their claim online, but also submit pictures of the damage via email.
Says Otto: "Innovation is a hallmark of our business, everyone on the team is constantly on the lookout for ideas, new solutions to offer or improvements to what we are already doing. In fact we are planning to launch two very exciting enhancements in the next few months."
Reflecting on the company's achievements and the future that lies before it, brings Otto to the area that still lies at the heart of the business: people.
"We have had the privilege of building this business with the most extraordinary people. Our customers have encouraged us and brought us back into line when we've needed it; our partners have worked with us, supporting our dreams in every way they can; and our work with communities has raised our spirits and filled our hearts. The final word must go to the MiWay team though, it is their commitment and efforts that has brought us to this point, I simply cannot imagine that a better team exists," he says.