MiWay service gets excellence nod
Published on: 07 October 2011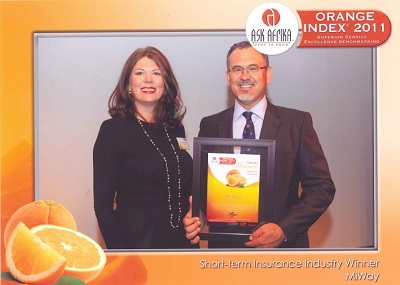 Direct short term insurer MiWay has emerged tops at this year's Ask Afrika Orange Index awards, surpassing insurance sector peers with its distinctive approach to customer relationships.
Currently in its 11th year, the Ask Afrika Orange Index is South Africa's largest service excellence benchmark, identifying the country's top service-oriented companies. Ask Afrika's research provides unparalleled insight into the views of South African consumers on service delivery; the gap between customer expectations and actual experience; and identification of specific performance areas ranging from excellent to incompetent.
Despite driving the company's fanatical dedication to service, MiWay CEO Rene Otto says the award was unexpected: "Our age and size, relative to that of our competitors means that we definitely didn't expect to win this award and we are extremely pleased. Frankly, we're overwhelmed to be placed amongst those companies formerly honoured given the fact we've only been in business for around for a mere three and a half years."
"The Ask Afrika Orange Index provides independent insight into marketplace perceptions of the brand, actual experience against consumer expectations, and the value customers assign to your full service offering. It provides us with what is probably the most accurate way to measure our product and support offerings, the MiWay team and our performance against our service-level priorities," explains Otto.
MiWay is the youngest company to win the award according to Sarina de Beer, MD of Ask Afrika. Previous industry winners have been well established and recognised industry forces such as Santam and Outsurance, clearly illustrating MiWay's achievement in a highly competitive industry
MiWay started life in the financial services sector with the aim of transforming the grudge purchase status of the short-term insurance industry into an environment that would support relationship building with customers, communities and amongst employees. The Ask Afrika Orange Index leadership position certainly shows how far the company has come.
Says Otto: "I'm delighted with the MiWay team – customers, employees and partners – and the recognition which is coming its way. Nevertheless particular recognition must go to our front of line staff for adopting our service ethic and putting these into action in their delivery."
MiWay is a regular feature on social media, a recipient of consumer praise for listening to its customers, rather than advertising at them, and initiating transparent communication channels that accept both compliments and complaints.
"This interaction demonstrated the need for a return to basics - deliver great service, achieve first call resolution, deliver hassle-free claims and always keep our promises. In return our customers have stood by us and become part of the family."
As for future direction, MiWay has no intention of resting on its laurels. Says Otto: "We have recently opened a second call-center in the Joburg CBD and expanded our Bloemfontein operation. The business is growing in leaps and bounds despite the economic recovery not being as smooth as we had hoped and of course competition increases almost daily. But we are very excited about 2012 and we plan to aggressively grow the number of people who sleep peacefully knowing they have a hassle-free insurer looking out for them."