The beginner's guide to buying a scooter
Published on: 29 January 2015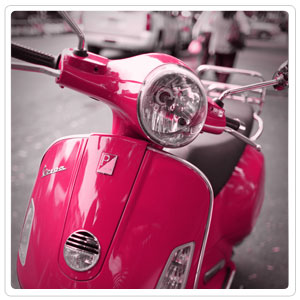 Riding a scooter is a great way to cut down on fuel costs and get around traffic congestion, plus it's eco-friendly! Scooter styles and choices are endless and it comes down to personal preference.
If you are thinking about getting a scooter, here are some pointers to help you out.
Before you go scooter shopping, see if you can take a friend's scooter for a test ride to see if it's something you enjoy. Fortunately, scooters are easier to ride than motorbikes, but they are also slower and don't have the same kind of brakes motorcycles are fitted with.
Visit scooter dealerships in your area. Sit on different models in the showroom - make sure you can touch the floor easily and that you have enough legroom.
While are sitting on the scooter in the showroom, don't be afraid to ask questions! Take note of how comfortable the seat is and how easily you can move the scooter forward and backward while seated.
Think about safety. You may not want to use a full face helmet on a scooter, but make sure your helmet does have a visor that you can pull down to protect your eyes. Make sure that the helmet fits properly. In addition to a helmet, brightly coloured, motorcycle-specific clothing that you wear over your street clothes can help you to be more visible to other drivers.
What will you need to carry? If you think you'd ever want to drive with an extra passenger on board, check specifications carefully to see how much weight the scooter can handle. Also check that the storage space under the seat will be large enough to put your helmet in.
If you haven't got your K53 motorcycle license, you will at least need a motorcycle learner's license to ride a scooter. Remember that with a learner's license, you can only ride scooters of 125cc and under.
If you buy a new scooter, find out about the warranty or service plan. Most reputable brands offer a two-year warranty. Scooters need to be serviced about every 3,000kms or so. You should get an owner's manual and a warranty book.
If you're buying second hand, find out if the scooter is still under warranty and if the warranty can be transferred into your name. Check the service history – just like a car, a scooter comes with a service booklet that should be kept up to date.
How will you get your scooter home? Make sure you've brought a vehicle that is large enough to safely carry your scooter home, and someone to help you load it (if needs be).
Before you ride off on your new scooter, read through the owner's manual to familiarise yourself with your new mode of transport.
Don't forget to get protect your investment by getting insurance. MiWay offers insurance for your scooter under our Motorcycle Insurance product. If you're registered for MiXpress, you can easily add your scooter to your existing policy.
Finally - enjoy and be safe!