7 smart ways to spend your bonus
Published on: 11 December 2014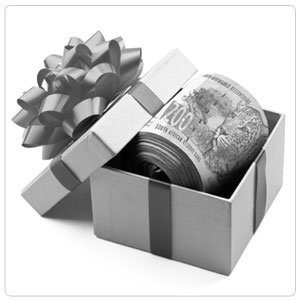 Did you get a little something extra in your pay check this December? If you were lucky enough to get a year-end bonus this year, here are some tips that ensure that your hard earned reward continues to work for you over the next 12 months – and even beyond.
1. Pay off credit cards and debt
Using your bonus to pay off credit cards and other loans may be one of the most productive moves you can make. Debt is as an obstacle to your financial security and it's so easy to get caught up in the spiral of debt. One of the ways of avoiding this spiral is to clear at least part of that debt with your annual bonus. Remember that the interest rate payable on debt is usually higher than the interest earned on savings.
2. Top up your mortgage
Depending on the size of the bonus, consider paying off part of your mortgage, which will lower your monthly payments.
3. Annual costs
Another great idea is to use your bonus to pay annual costs so that you can trim your monthly expenses in the year ahead. For example, you could pay your child's school fees upfront for the year. You may find that paying for fees upfront will qualify for a discount.
You could also arrange to pay your insurance premiums for the year upfront. Besides shaving an expense off your monthly costs, you may find that your insurer will give you a better rate for a lump sum payment as opposed to monthly premiums.
4. Emergencies and large expenses
Look ahead to the next year and think about any large expenses that you might incur - for example, a new fridge, new tyres or your car's annual service – all of which can be costly.
You can also start an emergency savings account for life's unplanned events – the general rule of thumb is to have three to six months' worth of your salary saved.
5. Boost retirement savings
If you are in the position of being debt-free, you can use your bonus to boost your retirement savings – which has tax benefits. If you do not already have a retirement annuity, now might be the best time to kick-start one with funds from your bonus.
6. Invest the money
Aside from your retirement, this could be a great way to start an investment portfolio. Seek professional advice about which portfolio or investment plan suits your future needs or lifestyle. You could also invest the money towards a specific long-term goal, such as your children's education.
7. Treat yourself (within reason)
Splurge, indulge, treat yourself but the important thing is to set limits. Budget a portion of your bonus and reward yourself with some short-term gratification. Then take the rest (ideally, the majority) of that bonus and put it to good, long-term use.
Remember, your bonus – is just that – a bonus. By spending it wisely, you reap the rewards of it long after the festive season has passed.