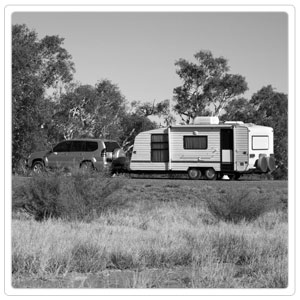 Venturing out into the open road in your home on wheels is one of life's great but simple pleasures. If this is your first time on this new adventure, read these tips before heading out on your caravanning experience.
Adding the personal touch
Once you've got your very own caravan, you will most probably start thinking about how to make it your home-away-from-home. There are a number of accessories on the market to make your caravan holiday more comfortable. These accessories are useful in a variety of situations and you should consider utilising these for your next trip.
Planning your trip
There is always so much to think about before leaving on your caravanning holiday, especially if you are going to be travelling for a long time or for a great distance. Make sure that you plan ahead.
It is essential to research the area and caravan site in which you will spending your holiday. An understanding of the area will allow you to prepare for the conditions you are likely to encounter - for example, the weather conditions that you can expect and the facilities available at the caravan site.
Consider joining a caravan club or social media group to meet people with similar interests and gain new information about popular destinations, caravan equipment and get answers to other questions that you may have.
Draw up a menu for all the meals you'll be eating while you're away. Then you'll know which ingredients you'll need to purchase, as well as where best to store them – for example, in a cooler box or freezer.
Write a checklist during your planning phase so that you don't leave anything behind. Must-have items include a fire extinguisher and a fully-stocked first aid kit.
Entertainment
Every caravan will need some form of entertainment in order to keep the kids busy - especially if it rains. Consider packing some board games or other forms of entertainment, such as a small portable TV. A good bet is to bring a games console or DVD player with you. A docking station for music ensures that will you enjoy your favourite tunes.

Towing tips
Make sure your caravan is securely attached to the car, windows are closed, doors locked and gas and electricity turned off before you drive off.
Don't exceed the maximum towing capacity of the towing car.
Equipment such as water, food, camping gear etc. will generally add another 300kg to the weight of the empty caravan. Make sure your towing vehicle can handle this weight.
Ensure that your towbar can handle your fully-loaded caravan
Caravan insurance
Getting caravan insurance ensures that you can go on your holiday with peace of mind. With MiWay, you can also relax knowing that enjoy the benefits of roadside assistance and emergency services.
With MiWay's caravan insurance, you can be sure to enjoy the open road knowing that your home-away-from-home is covered against:
Theft and hijack
Fire and explosion
Accidental damage
Storm, hail, flood or snow
Liabilities caused to other parties
Cover for caravan contents and accessories
From camping tables, chairs, tents and even your cutlery – if it is predominantly kept inside your caravan (even when the caravan is not being used), then we have it covered.
For those who like to travel in style, your permanent fixtures and accessories such as air-conditioning units, fitted canopies and awnings can also be specified on your policy.
Please note that the replacement value for both the caravan's contents and accessories must be specified as extras. The value of the caravan's contents must be specified under the 'Caravan Contents' risk.