Different life stages - different insurance covers
Published on: 11 June 2014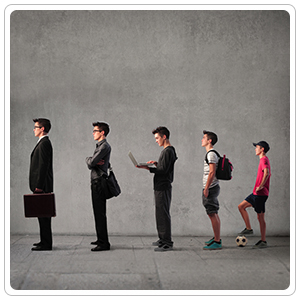 As you grow older your needs, responsibilities and lifestyle changes – and so should your insurance cover. Wherever you are in your life, the key is to have an insurance policy that meets your needs at that particular time.
The young and single years
You're fresh out of university, got your first job and you've moved out of mom and dad's house. As a young adult making your own money for the first time, your personal assets are probably modest to say the least.
Household contents – If you're renting, your landlord's insurance does not cover you for any stolen or damaged personal items. It could cost you thousands of rands to replace your clothes, furniture, laptop and other electronic devices. It's always a good idea to keep an updated inventory list of all your contents to ensure that you are insured for what you have.
You might also need extra cover for expensive items such as jewellery and watches as well as sporting equipment like your mountain bike.
Car insurance – When you were living with your parent's you were probably insured under their policy. If your car is registered in your name, now is a good time to get your own insurance cover and start building your own insurance profile. A good insurance profile will allow you to build a better risk profile which may influence your premiums in the future.
If you are thinking about buying a car, it's advisable to consider the cost of insurance. Certain makes, models and even colours can attract a lower premium.
Useful tip: Companies such as MiWay Insurance allow you to complete multiple car insurance quotes online. This is a great way to find out how much you will pay on car insurance before you buy a new car.
Newly wed
You've met the love of your life and wedding bells are in the air. Once you have tied the knot you will need to revamp any policies that you had when you were still single. For example, it will probably be cheaper if you and your spouse put both your cars on one policy.
Homeowners insurance – you might be buying or building your first home. Homeowners insurance is designed to protect your investment. If your home is financed, your bank may require a minimum insured value. It is vital that you insure your property for its replacement value. This is the cost of rebuilding or repairing the building with new materials.
Established
During this stage in your life your possessions would have accumulated considerably compared to your younger years. Remember to regularly review your policy to ensure that you have the right cover. Make sure that your inventory list is update at all times. When considering the value of items in your household, remember to rate them at full replacement value and not their current value. For example, find the value it would cost to replace your items today.
Wherever you are in life, without the right cover, you run the risk of a possible financial setback. The trick is to adapt your insurance cover as your life and circumstances change.
As a MiWay client you can always update your policy online as and when it is most convenient for you. For a quote on car and home insurance click here.