Know the facts: Homeowners insurance explained
Published on: 18 February 2014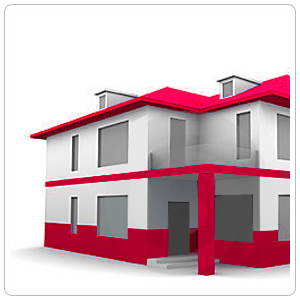 Your house is more than just bricks and mortar, it is also your home and sanctuary. It's for that reason that you want to protect your valuable investment. Having the right insurance for your home gives you that added peace of mind that comes from knowing that your investment is protected in the event of a catastrophe.
Imagine the worst case scenario – a disaster that is completely beyond your control such as a storm, flood, a major fire, smoke or explosions or a burst pipe. Homeowners insurance (or buildings insurance) covers you for a situation where your house is so badly damaged that it needs to be completely rebuilt.
Homeowners insurance covers the permanent structures on your property. This includes your house and outbuildings, such as domestic quarters or a granny flat. It also includes all permanent fixtures, fittings and improvements, such as walls, patios, driveways, gate motors, tennis courts, underground pipes and cables, as well as the swimming pool.
Whether you are buying or building your dream home, as a homeowner, you most definitely need homeowners insurance. In fact, almost everyone who owns residential property must have this type of cover. This is because the vast majority of us can't afford to buy property for cash – so we borrow money from a financial institution such as a bank. The financier inevitably require that an insurance policy be taken out so that if the property is damaged or destroyed by any of the happenings insured against, its investment as well as yours will be protected.
Replacement value
It is vital that you insure your property for its replacement value. This is the cost of rebuilding or repairing the building with new materials.
Useful tip: When calculating the replacement value of your property, ensure to include the following additional costs:
professional and municipal fees
demolition charges
debris removal
making the site safe
building costs
According to the Ombudsman for Short Insurance, "you should always look at the maximum amount of your homeowner cover regularly and ascertain whether you are not in fact under-insured as a result of any increase in the value of your building costs or replacement costs, etc."
If your building is insured for an amount that is less than its replacement value, then you are under-insured. For example, if the correct replacement value of your property is R1 000 000, but you chose to insure it for R500 000, you will only be paid out 50% of your claim amount.
Keep your insurer informed
It is very important that you keep your insurer updated on any changes. These include:
Letting or subletting your house
If business is being conducted from your premises
If your home is undergoing building alterations or renovations
Scenario: If the roof of your house is made of tiles you will pay a premium for the specific risk. If you decide to add a thatch area to the building without telling your insurer, you will be paying the incorrect premium, as the risk of fire damage is much higher for thatch. Your home will therefore not be covered for fire damage.
Having the right insurance cover for your home is not a luxury but a must-have, make sure that you protect your most valuable asset – your home.
As a MiWay client you can update your policy online as and when it is most convenient for you. For a quote on home insurance click here.