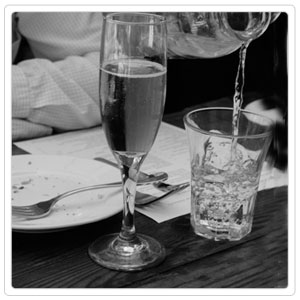 Driving whilst under the influence is one of the biggest threats to road safety in our country. According to Arrive Alive, half of all road fatalities are alcohol related. As the holiday season approaches, and with it, the promise of festivities, bear in mind the added risks that come with having a few drinks – and, rather than driving, seek a better option to get home safely.
How much is too much?
In South Africa, the legal limit is a breath alcohol content of 0.24mg per 1,000ml, or a blood alcohol limit of 0.05g per 100ml.
For many drivers, the big question is 'just how much will put me over the limit'. However, it is very difficult to estimate just how much is too much, because alcohol affects all of us differently, and there are many other factors involved. One unit of alcohol is equal to a blood alcohol level of about 0.02g.
Here is a list of alcohol per unit (this is merely an indication and can depend on many different factors):
1 x glass of wine = 1 unit
1 x shot = ½ unit
1 x spirit cooler =1.25 units
1 x beer = 1.5 units or possibly more
1 x cider = 2 units
1 x cocktail = between 2 and 4 units
The AA provides perhaps the best advice of all: 'The rule of drinking and driving is simple, don't do it. It is a proven fact that your driving is impaired after even one unit of alcohol, so it is safer to not drink at all when you know you will be driving. Driving under the influence is a criminal offence and it only takes one point over the limit to seal your fate – which could mean up to six years in prison.'
WeDrive – the safer alternative
As the festive season draws near with parties popping up all over the place, there are safe alternatives to driving under the influence of alcohol. One such option is WeDrive, a 'take me home' service offered by MiWay. This option lets you have all the fun, without any of the drawbacks – and best of all, you are driven home safely in your own car after a night out on the town.
All MiWay clients who have MiHelp Roadside Assistance as part of their insurance cover qualify for 6 free trips per year with WeDrive.
It's as easy as 1, 2, 3 …
Booking a WeDrive trip is as easy as calling 08600 767 64. Bookings can be made from a week to 2 hours in advance. Two drivers are dispatched, one of whom will drive you home in your vehicle.
The WeDrive service is available in Johannesburg, Pretoria, Cape Town, Durban, Port Elizabeth and George. Please ensure that bookings are made before 01h00. The earliest pick up will be done at 05h30 and the last will be at 03h00.
Alcohol significantly slows reaction time and distorts your vision – and increases your chances of being in an accident.
Never drink and drive – it's not worth the risk.