You have been in an accident - now what?
Published on: 14 March 2014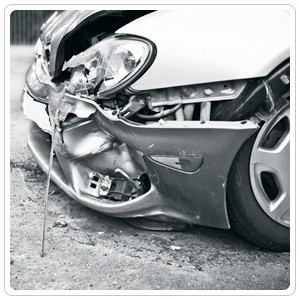 Whether it's a small bumper bashing or major crash – if you have ever been involved in an accident then you would remember the initial shock and panic, especially if you don't know what to do. But as we all know, accidents do happen – try to keep calm and follow these few helpful tips.
By law, if you are involved in an accident that causes injury or the death of anyone, damage to property or any animal, you must stop your car. In fact, it's a crime not to stop after an accident.
Help anyone who is hurt
After you have stopped, if you are unharmed, find out if anyone is hurt and help them as much as you can.
Depending on the circumstances, you may also need to call emergency services.
If you don't know anything about first aid, be careful not to do anything that might make the injury worse.
Unless you need to go for help, you must stay at the scene until a police officer tells you, you can leave.
Find out the extent of the damage
Find out how much damage has been caused. If you have a camera or your cell phone with you, it's a good idea to take photos at the scene. Get shots of other cars that are involved, the damage, capture the position of the cars and license plates. This might come in handy at a later stage when you claim from insurer.
Try to get the following information from all parties involved and witnesses:
Full names
ID numbers
Addresses
Telephone details
Car registration numbers
You also need to give your name and address and vehicle registration number to the other parties that were involved in the accident.
You should also get:
Descriptions of the cars (e.g. car brand, model and colour)
Details of police and traffic officers and ambulance personnel
Details of tow truck personnel
This information will be helpful if you need to claim with your insurance company or the Road Accident Fund, or if you want to claim the costs of repairs from the other party.
After the accident
Report the accident to the police
The police don't have to be called to the scene if no one was hurt, but the accident must be reported - by both drivers - at a police station or traffic office in the area where the accident took place, within 24 hours.
If you are hurt and can't report the accident immediately, you must do so as soon as possible and explain why there has been a delay in reporting the accident.
Lodge a claim with your insurance company
Contact your insurer as soon possible in order to start the claiming process. As a MiWay client you can lodge your claim online using MiXpress, MiWay's self-management portal.
Other Dos and Don'ts
Don't make any statements admitting fault
If your car needs towing, only use a towing service that is authorised by your insurance
If you don't have tow cover with your insurance company ask the tow truck driver for a quote before your car is towed away
Write down the name, contact details and number plate number of the tow truck driver and find out where your car is being taken
Being involved in an accident can be both scary and stressful, but remember to remain calm. If you have been involved in an accident, remember these tips and inform your insurance company as soon as possible to ensure that you are back on the road in no time.