5 of the World's Most Famous Cars from Movies and Series
Published on: 19 February 2015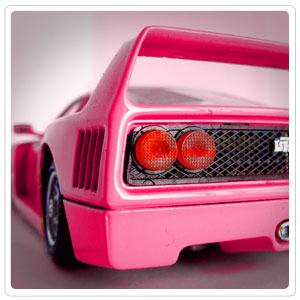 These five world-famous cars from celluloid history made most of us dream, hope and pray that we'd grow up one day to become the leads in these movies and shows that featured them. These days, being Michael Knight or Magnum, P.I. isn't really what anybody dreams about anymore, but those cars still look pretty good, don't they?
Here are 5 of the world's most famous cars:
James Bond's DB5. If ever there was an Aston Martin that everyone wanted to drive, it's James Bond's DB5. This silver beauty with the 4L all-aluminium engine made our hearts skip a beat. It was the gadgets, however, like the rotating number plate, the rear window shield, the headlight machine guns and the passenger ejector seat (to name but a few) that made all of us want to join the British Secret Service. We even started practicing for this fateful day by standing in front of the mirror and introducing ourselves by saying our last name first.
KITT from Knight Rider. You knew this one was coming and here it is: KITT (short for Knights Industries Two Thousand) from Knight Rider. There was nothing that this customised 1982 Pontiac Trans Am couldn't do. It was basically a supercomputer on wheels and, best of all, it talked!
The Ferrari 250 GT Spyder from Ferris Bueller's Day Off. Of all the things Ferris Bueller did on his day off, stealing Cameron's dad's Ferrari 250 GT Spyder was the coolest by far. And oh, how we cried with Cameron's dad when this thing of beauty was smashed to pieces after falling out of a window!
The Ferrari 308 GTB from Magnum, P.I. Yes, another one that you expected and another Ferrari as well. What can we say? We love Ferraris and this one from Magnum, P.I. with its 2.9L V8 engine explained how Magnum managed to pick up all of those girls despite the cookie duster (our favourite word for moustache) on his face.
The DeLorean from Back to the Future. Can there be anything more epic than a DeLorean DMC-12 with a 2,849 cc PRV ZMJ-159 V6 engine and gull-wing doors? Yes, one that can time travel. Buzz off Marty McFly because we want to go back to the future with Dr. Emmett L. Brown!
Doesn't this list make you feel nostalgic? Hopefully the cars had insurance during their movie careers – and if their current owners have any common sense whatsoever, they'll be insured today. Make sure that you have car insurance – MiWay can even insure your unlisted, vintage, or collector's car!
Just about to purchase your dream car? Are you getting confuesd about what car insurance you need? Download our eBook A Dummy's Guide to Owning a Car for helpful tips that'll ensure you're prepared for anything you might encounter on the road.