Interesting Facts about South African Drivers
Published on: 11 March 2015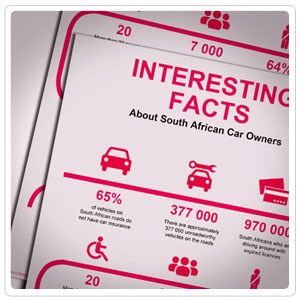 With so many other drivers on the roads, have you ever wondered how you compare in terms of your driving habits and behaviours, car insurance and road safety in general? Here are some facts about South African car owners that you are sure to find very interesting.
Car insurance is, unfortunately,
not

a priority

Do you have car insurance? If so, you are a few steps ahead of 65% of the other drivers on our roads! That's correct – only 35% of South Africans actually have insurance. The fact of the matter is that, without insurance, you are risking your savings and assets every single time that you start your engine. So make the smart choice and find yourself an affordable insurance provider today!
Road safety is also often put on the back-burner
In our country, due to a lack of trustworthy public transport options, most of us have our own vehicles. Unfortunately, getting to where we need to be as fast as we can possibly get there has actually become more important than ensuring our safety on the roads. There are over 500 000 vehicle accidents on our roads every year. Not only that, but, as a result of these accidents, approximately 7 000 people are badly injured. If that isn't enough, more than 20 people are left disabled on our roads each and every day! It would seem that we all need to start driving more responsibly in order to reduce these terrifying statistics.
We tend not to look after our vehicles
When was the last time you took your trusty vehicle for a service? When was the last time you had it tested for roadworthiness? Vehicle maintenance seems to be another aspect of car ownership that does not receive as much attention as it deserves. In fact, there are over 377 000 un-roadworthy vehicles on our roads. Un-roadworthy vehicles lead to accidents and unpredictable driving behaviour – both of which are definitely best avoided!
One reason to be less excited about payday
There is not one person out there who doesn't look forward to payday every month! Unfortunately, the death toll on our roads increases by almost 25% over payday weekends. This is caused by a variety of factors including more cars on the road or driving under the influence of alcohol.
The most common car insurance claims
Did you know that fender benders are the number one reason for car insurance claims? Not far behind are claims for windscreen damage, theft, vandalism and rear-end damage. Most people only ask for a vehicle insurance quote that covers them for damage caused by collisions where a third party is involved. Unfortunately, so many other things can happen to our vehicles – from weather damage to theft. So make sure that your car insurance policy adequately covers you for these unfortunate events.
If you would like to learn more about affordable insurance, feel free to get in touch with MiWay. We offer you tailored car insurance solutions that will leave you with reliable cover and the peace of mind that you deserve.
For more facts on SA car owners check out this infographic.