Whether you are a first-time car owner or you've owned several cars in your lifetime, one phrase that you may have repeatedly heard is, "does your car have insurance?"
This is also known as "adulting" – paying a monthly premium to protect your car in the unfortunate event of an accident.
There are different types of insurance, namely, total loss, third-party, fire and theft and perhaps the most inclusive of them all – comprehensive car insurance.
You may have heard of the term before, but if you find that you still have several questions about what this type of cover entails, then this blog is for you.
What does comprehensive car insurance cover?
Comprehensive insurance provides you with cover in the event of a car accident, a natural disaster or fire and theft. It also covers any claims if your vehicle has been hit by a third party who may not have insurance and provides you with any windscreen or glass repairs. Comprehensive car insurance is by far the most inclusive cover you can find in the insurance market. Should you want the ultimate peace of mind if your vehicle is damaged or stolen, a comprehensive cover would be your best bet.
What is not covered by comprehensive car insurance?
Although comprehensive cover will protect you against most damages, it does not cover your car's services and yearly maintenance. If your car undergoes a mechanical breakdown due to depreciation, this will not be covered under comprehensive car insurance.
Other items that are not covered by comprehensive car insurance include:
Electrical breakdowns
If you are involved in an accident, and you were driving under the influence of alcohol
If an unlicensed driver drives your vehicle and collides with another vehicle
If you failed to pay your premium within the period of grace
Is comprehensive insurance worth it for an old car?
As your car ages, it loses the value it had as a brand-new car. A car owner may decide to drop their comprehensive cover once their vehicle is fully paid off. However, it is essential to note that should your car be in an accident and it is not comprehensively covered for accidental damage, you may not have a valid claim.
There are different ways to insure your car:
Retail value – the most preferred and recommended insured value. Choosing this will mean that your car is insured at the current selling price on the dealer's floor as per the TransUnion Dealers' Guide.
Market value – the value is calculated based on the average between the vehicle's retail and trade values.
Trade value – depends on the average price that a motor dealer will pay you for the vehicle as per the TransUnion Dealers' Guide.
Special agreed value – this value applies to unlisted, vintage and collectors' vehicles, caravans and trailers where an appropriate approved source gives a valuation.
What if my car is stolen or written off?
A car is considered a write-off if the insurer determines the cost of repairing a vehicle after an accident is greater than its value. If you have ever wondered why an insurer pays less than what it would cost to replace your car, it may be that after a vehicle is in an accident, an insurer will send through an assessor to evaluate the damages. Based on the assessor's findings, they may agree to pay the money required to fix your vehicle, or they may write the car off. One of the factors that contribute to this decision is the sum your vehicle is insured for.
The assessor will also evaluate the extent of the damages and determine the availability of parts needed. If the vehicle is considered a write off, the claim will still be processed by the insurer, who may decide to pay out the car's insured value while deducting the excess and depreciation value.
Third-Party car insurance
Third-party car insurance is commonly referred to as liability insurance. This type of insurance provides cover to an insured person should they be the cause of a car accident and damages the other party's property. The insurance will provide financial cover to the third party involved, which includes any losses or damages to their vehicle. You will not be covered should your car be damaged, but the other driver's car will be covered.
Benefits of a Third-Party car insurance plan
You never know when a car accident will happen, neither what the extent will be of the damages caused, but you can always prepare for it. A car accident is stressful enough and can add an emotional and financial burden to you. Not having to worry about the financial implications should you be at fault in an accident will make your load much lighter. Some of the benefits of third-party insurance include:
A more affordable premium - if third-party cover is all you can afford, it's worth noting that this kind of cover is a cheaper alternative. Remember, your vehicle will still not be covered for repairs.
It protects you - when a collision takes place and you are at fault, you are legally liable to pay for the damages toward the third-party's car. However, since the insurance will cover the claim, this prevents you from being sued in your personal capacity.
Comprehensive car insurance vs Third-Party car insurance
Some car owners opt for third-party insurance, especially if their car is more than 20 years old. The reason for this may be because they would consider the cost to repair their vehicle much higher than actually replacing the vehicle. Whatever your reason is for getting an insurance policy, you need to understand the various options available as well as what this may mean to you. If you can comfortably pay more than R80 000 for damages to a vehicle, then you may not see the need for insurance - but not many South Africans have that much disposable income. Your best bet would be to get insurance cover from a reputable company that will provide you with a seamless claim, should the need arise.
So, let's say you're shopping for insurance and you're wondering exactly what to get. The table below may help you understand why you should get comprehensive car insurance: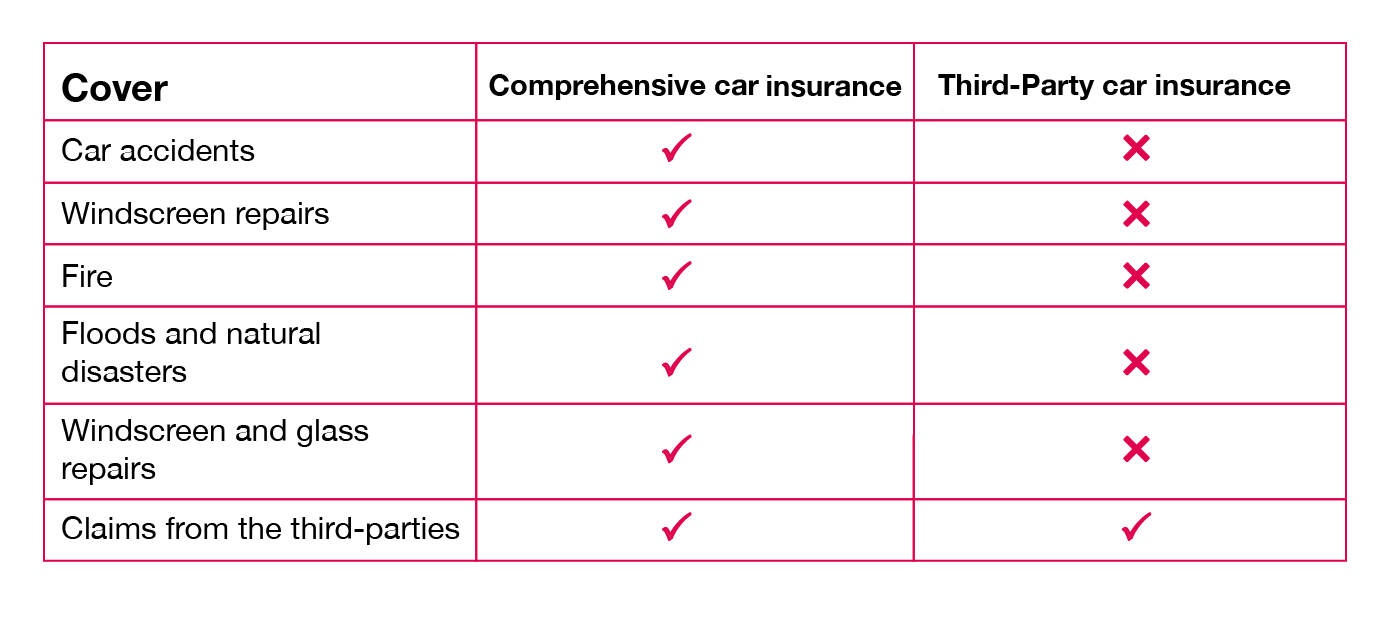 Comprehensive car insurance benefits
If a driver is involved in an accident and it is not their fault, they may still claim, especially if the other driver does not have insurance. Should you drive into someone and a claim is made against you, you will also be covered. If there is a hijacking, your car is stolen, there is hail or flood damage, you will still be covered.
Comprehensive car insurance excess
Understanding car insurance excess is vital – should the need arise for you to make a claim, the last thing you need is to be told to make a payment you did not know of before. Excess is the amount of money you should pay before your claim is processed. When you take out insurance cover, the agent should provide you with various options based on your excess: the higher your excess, the lower your premium. If your excess is R3000 and the damages cost around R40 000 to fix your car, the insurer will pay the remaining R37 000 after you have paid your excess. The main reason why car insurance policies contain excess is that it helps car owners manage their risks.
An additional excess may apply to your claim in certain events. Additional excess is an added amount that is payable along with the standard excess. This only applies if the incident driver is not the regular driver or below 25-years-old. Read your policy carefully or chat to one of our consultants for further understanding regarding additional excess.
Choosing a comprehensive coverage excess
You may feel like you are scoring monthly with a low premium, but it's vital to ensure that you can pay the excess you settle on with your insurer. If you are unable to pay this fee, this may delay the claims process. Make provisions in your budget and ensure that you have the money, should you need to claim.
Who needs comprehensive coverage?
If a bank finances your vehicle, the financial institution may require you to have comprehensive cover. Your risk should also determine the type of insurance you should get. Drivers who have not had their license for long pose a greater risk than drivers who have had their license for longer. This does not mean that you will not be in an accident just because you have been driving for longer. At the same time, this does not mean that you will have an accident if you have been driving for a shorter period. However, the less experience you have driving on the road, the higher your risk to other drivers.
What is the difference between accident cover and comprehensive insurance?
Comprehensive insurance not only covers you for when you are in an accident but includes other perils. Perils refer to a variety of risks that may result in damage to your vehicle. Some of these include accidental or intentional damage, hijacking and theft. These also include damage caused by a fire, explosion, glass damage, hail or natural disasters such as floods, earthquakes and snow.
Accident cover essentially covers your vehicle against any accidents and damage and will cover the damages to your car if it has collided with another car.
How much does comprehensive insurance cost?
Your insurance premium is dependent on various factors. These include your age, the age of your car, the amount you agreed on for excess, where your vehicle is parked at night if it has a tracker installed, and several other factors. The only way to determine how much car insurance will cost you per month is by speaking to an insurance agent who will provide you with the various options you have.
Comprehensive car insurance quote
Now that you know the benefits of comprehensive car insurance apply for an insurance quote and explore affordable options tailored to your budget.
Remember that policies vary depending on the insurer and the different options they provide. Keep a copy of your policy on the cloud or a drive and read it carefully so that you understand the full coverage. If there is anything you do not understand, reach out to one of our skilled staff members, who will gladly explain them to you.