It's out with the old and in with the new. Since many of us spend more time at home these days, you may start to feel like you need a change in scenery. But that does not necessarily mean that you must move out of your current home into a more expensive, modernised space! Nor does it mean that you must to go on a road trip with the kids – although that does sound like a plan!
Redecorate your current space by adding a few more elements of your personality and taking it to the next level. All it takes is a few bedroom redecorating ideas to open your mind to what is possible. As Beyoncé, famously says: "Let me upgrade you!"
Layered bedding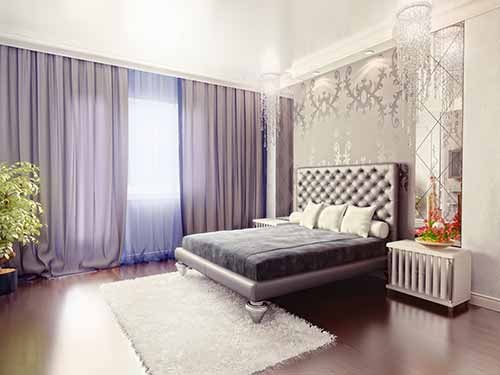 After a long day at work, sleeping in a cosy bed is essential. The great thing is that you don't need to buy a new mattress to upgrade your bed. With a few layers of bedding, you can achieve a style that an interior designer would approve of! The first and most essential step is to add a fitted sheet to your mattress. A white fitted sheet adds a clean and crisp look to your bed. Then add a top sheet. Press out any wrinkles with an iron or a hand steamer and pull the sheet as far to the top as you can. To neaten the look, fold the top sheet under the mattress. Add a plain white duvet on top of the fitted sheet to achieve that "hotel" look. Add extra fluffiness to the bed by layering another duvet on top but try and choose one that is a different colour or has more patterns on it. Fold the second duvet over the edge of the bed so that it falls below the mattress and covers the bottom of the other duvet. Add a throw over the middle section of the bed and lay it horizontally. Next, add a few pillows of different sizes – place two continental pillows against the wall or headboard and then add two standard-sized pillows in front of the continental ones. Add additional decorative pillows to your taste but make sure they match with the colour-scheme. Lastly, add another throw at the edge of the bed - however, this is entirely optional.
A comfy rug
Rugs not only enhance the aesthetic of your room but also add a layer of comfort by keeping your feet warm and cosy. Rugs are perfect for adding texture to and warm up a room – much-needed during the colder months. Show off your style by getting a rug that brings out your personality. Whether it's a fluffy rug in a bold colour or one that has several patterns on it, rugs can change the look and feel of your room in an instant.
Quality curtains
Depending on the colour and pattern of your curtains, they can add a romantic touch to your room, especially if they have earthy tones or pastel shades. They can also add a beautiful touch of colour to a plain room. If you have light walls, opt for bold, dark-coloured curtains and vice versa. They add vibrant elegance to your room and can make your room look bigger. Curtains are notorious for collecting dust in your room, so try to clean them regularly.
A stylish bedframe
A simple bedframe can add a level of sophistication to your room that you probably didn't know you needed. There are several colours and designs you can choose from, so select one that reveals your personality and also offers great back support. Whether you go with a padded material or wooden bars, whichever element you decide is sure to modernise your bedroom.
A space for your favourite activities
Whether you like Pilates or something more competitive like some foosball, create a space where you can simply "be." Add a meditation corner if you wish and light some candles now and then – as long as it's something you enjoy doing. Make space for your favourite thing to do and you will be constantly reminded as you lay in bed that there's a corner awaiting you where you can live your way and have the best time!
A well-styled nightstand
Add a bit more detail to your bed with a nightstand – the perfect addition to a cosy bedroom. The last thing you want to do once you've cosied up in bed is to get out and fetch your cell phone from across the room or the floor. When you have a nightstand, you have a space to put a night lamp, a pile of books or an alarm clock within easy reach. Just be sure not to clutter up the space.
Subtle lighting
Natural sunlight is always ideal for brightening up your room during the day. But when you're ready to turn on the lights, having subtle lighting in your room is a beautiful way to make it look inviting. Add a floor lamp in one corner of your room, consider an overhead light above your bed as well as a few fairy lights if that's your thing. Yes, we said fairy lights. They're the perfect edition to enhance your room.
A place to sit
Having a couch or an occasional chair in your bedroom can create a pleasing aesthetic. Place it near a window if possible, to give you the best experience when you want to unwind with a good book or simply relax and daydream. After all, your bedroom is your safe haven, so always leave space for some 'me-time.' Try to keep the chair neat and tidy and free from any clutter.
A chest of drawers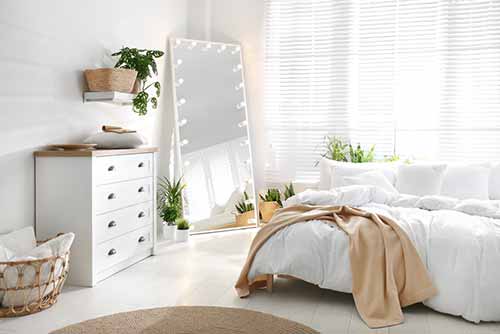 You can never go wrong with extra storage space. A chest of drawers adds the same detail that a table would to a passage – it gives a space a contemporary and classy feel. But other than that, a chest of drawers also helps to keep your bedroom organised (no more chairs that have several outfits thrown on them)! And when your space has less clutter, you feel more zen. Add a fresh vase of flowers or some cute pictures on top for an extra touch.
A full-length mirror
Having a full-length mirror is another sure-fire way to make your bedroom appear bigger. Your bedroom is also the place where you usually get dressed, so it's always a good idea to have a full-sized mirror in order to see your entire outfit. Keep a mirror in the corner of your room or close to your bed for an open and airy look and feel.
Plants or flowers
Having plants in your bedroom can boost your mood and lower your stress levels. Not to mention that they are aesthetically pleasing! They filter out pollutants in the air and can also help you sleep better at night. Plants that are great to have in the bedroom include snake plants, peace lilies, spider plants, jasmine and lavender plants.
Personal décor
What's a bedroom without your own personal flavour? A great way to spruce up your room is to make it your own. Add a few personal touches that reveal your style. Add some posters, jewellery holders, sneakers on display, vinyls on the wall, dream catchers, your favourite books, perfumed bottles neatly displayed on a tray – anything that speaks to your personality.
Stylish symmetry
If you like order, go for symmetry. Symmetry is an elegant way to make a small space appear larger than it is. It creates balance within a room as well as a feeling of calm when used in interior design. Symmetrical balance is achieved when items are actually repeated or mirrored along a central axis. Create a unified symmetry with your favourite books, paintings or even plants. Experiment with your favourite designs based on what you are looking for. . You might be surprised just at how much scenery and depth they add to your room.
A show-stopping headboard
To upgrade the look and feel of your bedroom, add a showstopping headboard. Since your bed is usually the main focal point of your bedroom, adding a headboard will immediately set the tone for your bedroom – whether sleek and stylish, or cosy and comforting. A headboard also provides you with much-needed back and neck support and protects your wall against wear and tear.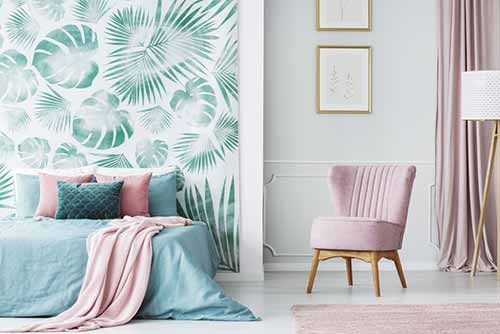 Pared-back pillows
Some people may ask, "How many cushions should I place on a bed?" And we say, "As many as you like!" Pillows not only make your bed appear fuller by creating added puffiness, but they add so much style to your bed alone. Try this: take all the pillows off your bed and look at the bare bed. Now, add the pillows back and see the difference! Add a mixture of textured cushions and ones with funky patterns. If you do not have a headboard or if you do have one that has a neutral tone, then adding different cushions is sure to liven up your room. Having a combination of one with small patterns, one with large patterns, and one solid colour is a good formula. Experiment with different textures – only having woollen pillows might make the bed look a little old-fashioned. However, if you mix a cotton pillow with a velvet one and add a chunky cushion as well, then you've may find a winning look!
Hanging bedside lamps
This is a great twist to the usual lamps you find on bedside tables – and might we add, slightly more uncommon in many households. Hanging bedside lamps free up space in a room, so you'll have more room to add your books, jewellery box, a night candle, a small plant or picture frames to your bedside table. If you're after a vintage look and feel, then search for light bulbs that are in enclosed in a case. If you want something more modern, then exposed bulbs might be what you're after, as the picture above displays. For something more relaxed, go for woven pendants.
Floor-to-ceiling creativity
Add a pop of colour to your ceiling cornices to instantly intensify your room, upgrade an ordinary white ceiling with a metallic coat of paint or experiment with different wood tones by adding wooden panels to your ceiling. Yip, it works! There are so many designs you can choose from that are more affordable than you think and can open up your mind to a range of new possibilities. Have a look at this blog for more ideas here.
Pattern play
Mixing the right patterns can liven up a room, just as the wrong patterns can overwhelm a space and suck the energy out of it. For added style, energise your room with large prints, but be sure to choose prints according to your room size. Vertical prints can make a space appear taller, while horizontal prints can make it appear wider. When choosing a colour pallet, start with neutral tones and work your way from there to create a sense of balance within the room. Patterns are great to create illusion and add a touch of luxury.
Feature wall
If you can imagine it and you can bring it to life, you're well on your way to creating a feature wall. Simply put, this is a wall that is filled with beautiful designs, or creative art – whatever tickles your fancy. If you're into spaceships, get someone to paint the galaxy and planets on an wall in your room if you are not comfortable to do so yourself. If you love graffiti and can do so yourself, what's stopping you from spray painting a beautiful piece of art on your wall? Whatever you decide, be sure to create a piece of 'wonder' that will fill you up with joy each time you step inside.
Redecorating your bedroom does not have to cost you an arm and a leg. There are several redecorating tips available to inspire you to take your bedroom to the next level. All it takes is some creativity, a little bit of passion and you're sure to create magic! Keep a receipt of all your purchases and get home contents insurance to cover your household items. This protects you in the event of loss or damage, whether by a natural disaster, theft or fire.
The links in this article are in no way sponsored, endorsed by, or associated with MiWay.