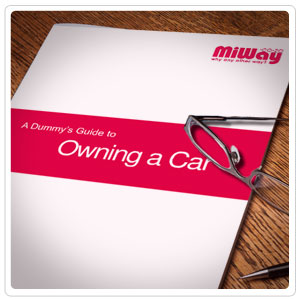 Taking out your first car insurance policy can be overwhelming – industry jargon, legal requirements as well as terms and conditions may confuse you.
Never fear, though! Take a look through MiWay's new eBook – "The Dummy's Guide to Owning a Car" – which focuses on things you need to know about car maintenance, safety, guidance on purchasing car insurance – as well as interesting facts about South African drivers.
The excitement of buying your very first car shouldn't be dampened by the legalities and responsibilities which come together with this life-changing event.
Be sure to check out the "Your Car" section on the MiWay blog for up-to-date news, tips and hints on car maintenance and insurance for your vehicle.
Click to download the e-book as a PDF
Use our simple SpeedQuote form to get a car insurance quote now!