Inspection Checklist When Purchasing a Second-hand Car
Published on: 07 April 2015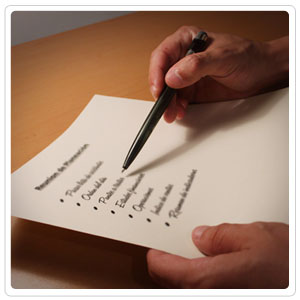 Your own set of wheels is not only a symbol of freedom but also a means of transport that brings a great deal of comfort to your life. The days of trains, taxis and catching a lift will be a thing of the past. As your excitement grows, it is important to remember that purchasing a second-hand car may either bring you joy or despair.
Buying a car will mean that you've got new financial responsibilities and the last thing that you want to worry about is unexpected costs and car insurance. However, you can simplify your life by looking for car insurance quotes from reliable and affordable service providers. Not only will this give you an idea on the costs of insurance, it will also give you an idea of the type of car insurance that you may need.
Another way in which to prepare for purchasing a second-hand car is to create an efficient checklist.
This will ensure that you aren't caught out when it comes to finding a bargain on a fairly new car. When creating your list, divide it into categories that each comprehensively cover a certain section of the car. These can include:
Exterior
Interior
Tires
Engine
Suspension
Steering
Frame
Automatic/Manual Transmission
Brakes
Not only will a checklist ensure that you are not stuck with excessive repair costs, it will also ensure that you walk away with a safe, roadworthy vehicle. When taking a look at your prospective car, ensure that you take a flashlight and magnet along with you. These will help you identify various issues and negotiate on the price.
If you're looking to buy a second-hand car, follow this checklist:
Pay Attention to Detail
Whether you are buying your car from a private seller or a reputable dealer, it is important to pay attention to the details. Although time-consuming, this process will ensure that the car is both safe and roadworthy. Take a look at the exterior of the car – if you notice any bumps, dents or scratches, ask the seller or dealer about what happened. If the car has a fresh coat of paint over it, it could be covering previous paint damage or rust. Take a peek at the interiors and electronics of the vehicle and test them. Use your flashlight to inspect the condition of the seats, pedals and boot. Pay close attention to the tire tread and quality of tires.
Check for Accident Damage
Use a magnet to check for accident damage. Ensure that you use a thin piece of cloth to avoid any scratches on the paint work before applying the magnet to the car. Place the magnet on the sheet metal above all four of the tyres. If it does not stick, there could be a thick layer of filler under the paint that is applied after an accident. When taking the car for a test drive, ensure that the car does not veer off to either side of the road. If you feel that the steering wheel is pulling to the left or right, you know that the wheel alignment is off. Apply the brakes in a medium to forceful manner and check that the automatic or manual transmission occurs smoothly.
Scrutinise the Engine
You might not be a mechanic but it is always a good idea to take a look at the engine. If you are wary of the sale, take a handful of pictures and talk to someone who works with cars. Ask them to survey the images and point out anything that looks out of place. When taking a car for a test drive, let it idle and listen to the engine. Place it in neutral and put the handbrake up, step out of the vehicle and ask the seller to place pressure on the accelerator, and listen to the sound of the engine.
Where's the documentation?
When buying a second-hand vehicle, ensure that you check that the manual is located in the glove compartment, that the instructions are included for any accessories or additions, that the service and repair records are immediately available, and that the owner has the registration papers of the vehicle.
To simplify your life, ensure that you are covered with reliable car insurance. Contact MiWay today. Need some insurance-related questions answered? Have a look at some of our Frequently Asked Questions.